HIGHLIGHTS
Puerto Rican Revolutionaries
Additional Caras Lindas books are in the works, celebrating and honoring Puerto Rican Revolutionaries such as Blanca Canales Torresola and Ramon Emeterio Betances.
Order Puerto Rico Revolutionaries El Grito de Lares.
Order Now
Special Events
We love to meet our community in person and participate in or organize special events from book fairs and readings, to special events highlighting Puerto Rican culture.
PUERTO RICAN VISIONARIES
PEDRO ALBIZU CAMPOS
Did you know Pedro was fluent in 8 languages: English, Spanish, French, German, Portuguese, Italian, Latin, and ancient Greek. 
(additional facts in the book) 
LOLA RODRIGUEZ DE TIO
Did you know Lola wrote the patriotic lyrics to Puerto Rico's national anthem, "La Borinqueña" in 1868.

(additional facts in the book) 
FRANCISCO OLLER
Did you know Francisco was the first Puerto Rican artist to paint the everyday reality of Puerto Rico's landscape, its people, and culture.
(additional facts in the book) 
FELICITAS MENDEZ
Did you know Felicitas worked to change laws in California, making it the first state to allow children of all colors to learn together.
(additional facts in the book) 
RAFAEL CORDERO
Did you know Rafael created a free school for children regardless of race, or ability to pay for education.

(additional facts in the book) 
MARIANA BRACETTI
Did you know Mariana lived on a coffee plantation called "El Triunfo", which became the most important starting place for El Grito De Lares.
(additional facts in the book) 
ARTURO ALFONSO SCHOMBURG
Did you know Arturo Collected literature, art, slave stories, and many other things of African history.
(additional facts in the book)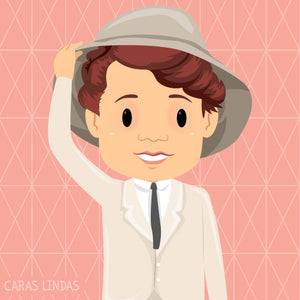 LUISA CAPETILLO
Did you know Luisa created a free school for children regardless of race, or ability to pay for education.
(additional facts in the book) 
ROBERTO ENRIQUE CLEMENTE
Did you know Roberto was the first Puerto Rican added to the Major League Baseball's Hall of Fame.
(additional facts in the book)